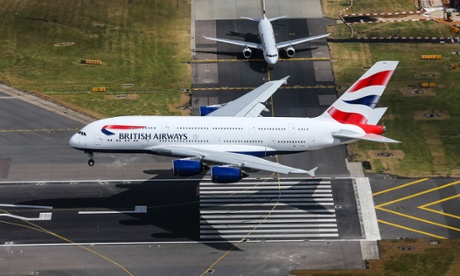 Small electronic devices, including tablets, smartphones and e-readers, can now be used on British Airways flights during take off and landing. Photograph: High Level/Rex Features
From today, British Airways has become the first UK airline to take advantage of the new European rules allowing in-flight use of electronic devices during all phases of flight.
The agreement with the UK's Civil Aviation Authority (CAA), which lifted previous restrictions after an European Aviation Safety Agency (EASA) ruling in November, allows passengers on BA flights to use their phones, tablets, e-readers and music players set to "airplane mode" throughout their entire journey, including take off and landing.
"We know that our customers want to use their handheld electronic devices more, so this will be very welcome news for them," said BA flight training manager Captain Ian Pringle.
BA estimated that the new regulations would provide an average of 30 minutes extra screen time for those attempting to watch TV programmes or movies on tablets and smartphones or reading on e-readers.
The go-ahead was given to BA by the CAA after the airline presented a satisfactory safety case displaying rigorous testing of small electronic devices on board its aircraft to the governing body, as is required for any airline wishing to take advantage of the new regulations.
"The airlines now have access to new methodology for the safety testing of devices, which could be a relatively quick process, especially as some airlines are likely to have already done a fair bit of testing," said a CAA spokesperson talking to the Guardian.
Other British airlines are expected to follow suit, including Virgin Atlantic and Monarch Airlines, in the near future once they have presented their safety cases to the CAA.
The European commission recently approved the use of 3G and 4G mobile services in-flight, above an altitude of 3,000m, which could see mid-air calling and mobile data over traditional mobile phone services a reality.
by Samuel Gibbs